---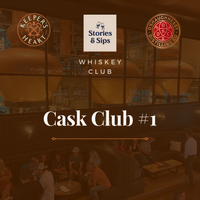 Cask Club #1 Membership
Stories & Sips
**This program is now sold out**
For full Cask Club #1 details, please visit this page to make sure you understand what is and is not part of your Cask Club membership.

By purchasing, you agree to the following terms and conditions to which you must agree upon checkout. A completed purchase will indicate an understanding of and agreement with all terms listed below:
I am purchasing a membership of

 

Cask Club #1
My purchase includes all membership benefits listed

 

here
My membership may not be sold or transferred without written approval from Stories & Sips. If a transfer is requested, the receiving party must be a member of the Stories & Sips Whiskey Club at time of request.
I am free to sell my membership back to Stories & Sips at any time during the maturation period and prior to bottling.
The duration of the maturation of the cask will be at least 4 years. I will receive notice once the cask has been approved for bottling.
I understand that a shipping charge will be payable upon bottling in order for me to receive my bottle. 
I will be eligible to participate in periodic tastings during the maturation of the cask but understand that I am not guaranteed participation, though all efforts will be made to include all Cask Club members.
My Stories & Sips Whiskey Club membership may lapse during the maturation period without the loss of the bottle, though I will lose access to online events/information during this lapsed period.
I understand that information about the included tour of O'Shaughnessy Distilling Co. will be made available within a few weeks of purchase of Cask Club membership.
Stories & Sips reserves the right to revoke Cask Club membership at any time without reason and to provide a full refund.
Additional memberships may become available during the maturation period as it becomes clearer how many bottles the cask will yield.
I must provide a U.S. address upon maturation where the licensed retail partner can legally ship my bottle. I understand it is my responsibility to abide by all laws governing delivery.
I understand that Stories & Sips, LLC makes no claims, promises or guarantees as to the quality of the finished product and that refunds are not possible once product has been delivered. 
This Cask Club membership is offered by Stories & Sips, LLC and not by O'Shaughnessy Distilling Co. or its agents.